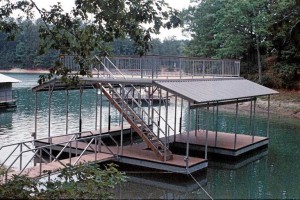 Here at Browns Bridge Dock Company we have strived for over 40 years to build the best dock in the industry. We are known to have the highest quality products and can boast the we have not had a structural failure  in the last 14 years.
Our primary residential frame is a 10″ x 8.4lbs' structural c-channel. This allows for a heavy dock that rides the water better and the strongest frame in the industry. In the roughest water we can upgrade the frame to a 12″ or bigger frame.
Our standard roof support is a 2.5″ x 1/8″ square tube which we put 2 every 8′ apart. Our typical double slip dock has 30 roof poles which allows for even distribution on the roof load over the dock foundation. Most of our competitors use less roof poles which point loads the dock and adds extra stress to the foundation. We have used up to 4″x4″x 1/4 Poles.
Our standard residential roof truss is a 2″x6″ x 1/8″ rectangle tube. We have been using the design for over 12 years on Lake Lanier. We have had many dock companies copy this design but we are always ahead of the curve. This design is strong in all directions and does not allow birds and bees to nest in the beams unlike c-channels. It also is cosmetically appealing. The roof trusses have a foot post welded on them that slips into the roof pole and then welded together. This adds extra strength and height to the roof system. This design has also been copied over the last 12 years. Over the years we have had to use bigger tubes depending on application. ie. 3″x8″x1/4″.
We use many decking materials and below are a few. We screw all of our wood NOT nail. We use either HDG or SS fasteners  We supply many companies with our fasteners because they are proven to work in docks. Our torx screw is a screw that is thread cutting, easy to install and remove later and does not back itself out. Self drilling screws are known to have problems because the the wings on the head of the screw.
2×6 pressure treated pine.
PROS – cheapest, heavy, easy to clean.
CONS – splinters, warps, need to seal, life expectancy is 10-20 years and unpredictable, grays out
Moisture Shield Decking – considered to be one of the best deckings in the industry. It is a composite decking and has been around for over 24 years. The wood fibers are wrapped in plastic to give the board the ability to be used for ground contact or below water use. Unlike other composites that will swell to well over 2x's the size the moisture shield will only expand 1/4″ or so. It is a solid board so no weak corners or edges and easy to cut.
PROS – fairly inexpensive, no warping, no splintering, no cracking, keeps color, limited lifetime warranty, uses recycled material
CONS – hot, not structural, mildews and stains
Ipe' Brazilian Hardwood – Ipe' is considered to be the best decking in the world. Make sure if you buy Ipe' then it is really Ipe' and not another decking like Cumaru.
PROS – Very hard, not kiln dried, does not warp, does not splinter, does not split, last 60-100 years with no maintenance. many colors
CONS – Very expensive, needs special tools to install, grays out and needs oiling if you want to keep color.
Aluminum – used on most sundecks on aluminum docks due to weight and use.
PROS – very light, used as sundeck catch pan, many colors, coolest decking in the industry
CONS – light weight, squeaks and clanks, mildews bad, porous and hard to clean, rough to bare feet, very expensive, baked on enamel peels off over time sharp edges where cut
AZEK PVC decking – PVC decking have been around for many years but just in the last few years have become relevant.
PROS – lightweight, easy to clean, does not stain bad, many colors
CONS – lightweight, very expensive, static electricity, not structural, hot, slippery, does not look real
We are called upon to install docks in some of the roughest parts of lake, because of our dock reputation to be stable and ride the water better. To hold up in almost anything thrown at it. Including high winds and waves as well as hurricanes.